Applied art
Eugeny Matko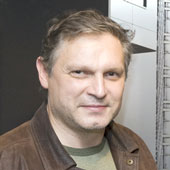 Eugeny Matko was born in 1958. In 1987, he educated from Moscow High School of Industrial Art with speciality monumental art. He created many artworks in traditional technique such as oil on canvas, but he is well known by his large enamel artworks, which are close to common artworks by their size.
In the first place, enamel is a miniature technique. Work in this technique is very specific because coloring agents, which artist bring to metal base, change their color during glazing. And author never exactly know, what effect it will take to his artwork.
Eugeny Matko created many enamel works with impossible figures. Most of them were inspired by Oscar Reutersvärd's artworks.
His artworks were exhibited in many art galleries of Russia and abroard.
See also frescos by Eugeny Matko.
Artist's web site http://artmatko.com.
Click on thumbnail to see image in better quality.