Programs
Grid Paint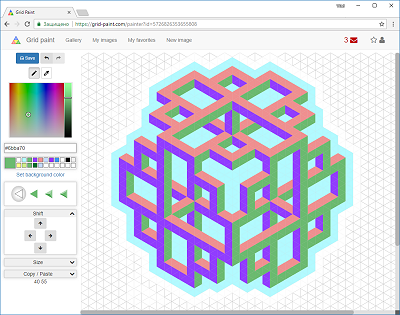 A pixel art online editor Grid Paint was opened in 2013. It supports various pixel grids including triangular, which is very useful for impossible figure creation.
For years many artists have been creating impossible figures in Grid Paint.
See impossible figures, which were created in Grid Paint by user Bucwah.
Impossible constructor online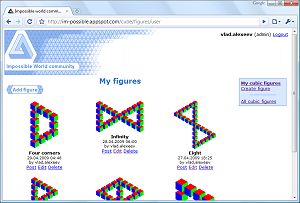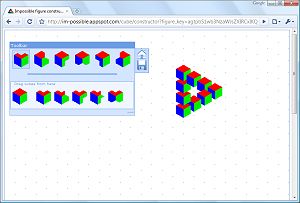 An online version of Impossible figure constructor was opened in Impossible World site community. You can create your impossible figures from cubes online and share them among other visitors of the site. You can also create posts with your impossible figures for discussions.
The Online Impossible constructor is supported by Google App Engine. You must login into your Google account for creating impossible figures and posting messages.
Just go to Impossible World site community, click on 'Create figure' link and begin create impossible figures.
Voxelart project
Online service Voxelart project (now closed) helps to create figures from cube. With it, it's possible to design impossible figures with some limitations.
See also some images, which were created with this service.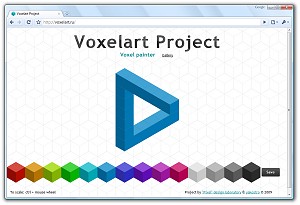 Impossible Puzzle 1.10
Download the program: imppuzzle.zip (96K)
Impossible Constructor intended for creation images of impossible figures from simple triangles. Idea of the program from the game Puzzabilities (http://www.lemniscateinc.com/puzz.html).
The main window of the program consists of toolbar with main operations (New, Open, Save, Print, etc), panel with set of triangles and workspace divided to triangles. You can add some triangles by dragging them from the left panel and dropping on the workspace. Left panel can be scrolled by clicking on arrow buttons at the top and bottom of the panel. Triangles can be moved within workspace by drag'n'drop operations or removed from workspace if you drop them back on the left panel. Triangles can be rotated by clicking left mouse button on it. Context menu will pop up when you click right mouse button on workspace.
See figures created with help of Impossible Puzzle (2 pages).
Program requirements:
Processor - Pentium 100 MHz
Memory - 16 Mb
Disk space - 200 Kb
Operating system:

Windows 95 (with installed MS Internet Explorer 4.0 or greater)
Windows 98, Me, NT, 2000, XP

Video mode remmended 1024x768
---
Impossible Constructor 1.25.
Download the program: impconstr.zip (97K)
Impossible Constructor intended for construction images of impossible figures. Impossible figures represents with cubes. Idea of this program was analogical program Illusionarium at http://www.palmyra.demon.co.uk/illusion/programs.htm. Main shortcomings of Illusionarium were complicated choise of necessary cube and lack of some cubes. Impossible Constructor offers full set of 64 cubes to choice. Necessary cube can be selected easer with cube constructor.
Main window of the program showed below.Toolbar at the left provides choice of necessary cube in two modes. First mode is choosing cube from library that consists of 64 possible cubes. Second mode allows to construct necessary cube by user. Right part of the main window is space to impossible figure construction. User can clear workspace, save workspace or customize some properties of the program using commands of main toolbar that located above workspace.
It's possible to move and copy cubes on the workspace using "select and move" mode.
The figure created with this program can be saved as Windows Bitmap file or as XML-file. Figures that was stored as XML-file can be opened in the program.
See figures created with help of Impossible Constrcutor (3 pages).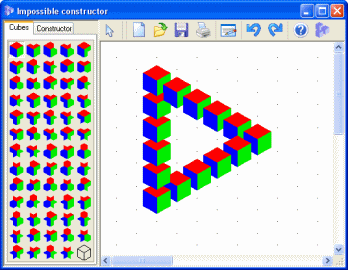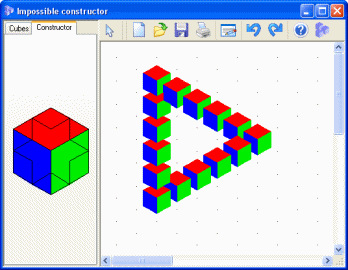 Program requirements:
Processor - Pentium 100 MHz
Memory - 16 Mb
Disk space - 200 Kb
Operating system:

Windows 95 (with installed MS Internet Explorer 4.0 or greater)
Windows 98, Me, NT, 2000, XP