Applied art
Karen Kombs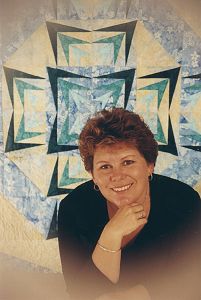 A native of Michigan, Karen Combs began quilting in 1973 while still in high school. She has a degree in library science and has worked at many state, city and school libraries before finding her calling as a professional quilting instructor, writer and designer.
Her quilts are known for taking a traditional pattern and giving it her own unique "twist." Karen is intrigued with quilts of illusions and has been designing quilts with a 3-D look for several years.
She is the author of many books about quilting. Her works appeared in many magazines. She has appeared on several TV quilting shows.
Karen now lives in the rolling hills of middle Tennessee with her husband Rick, daughter Angela, son Josh (when they are home from college) and a very sweet Shih Tzu named Cocoa.
Her website http://www.karencombs.com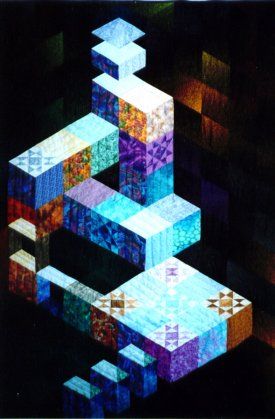 Stairway to the Stars (1997)
Inspired by the "impossible" figures of Vasarely and Escher, this quilt is a puzzle that baffles and defies reality. She wanted to explore depth with this quilt and also push the limits of the traditional quilt patterns, Baby Blocks and Variable Star.
---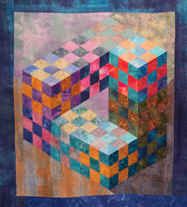 Trina (2000)
She challenged himself to make an impossible figure using simple shapes. This quilt was made by manipulating diamond shapes to create the impossible triangle figure.
She used hand dyed fabrics, batiks and hand painted fabrics to create a quilt that has the effect of being painted rather than quilted.
---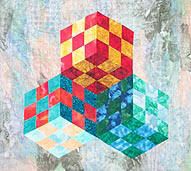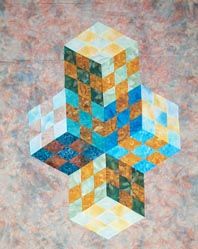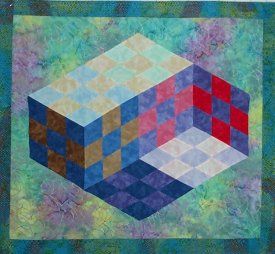 She also creates quilts with ambiguous forms like the Tiéry figure.