Cartoons
Antonio de Oliveira (Tonho)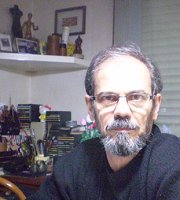 Antonio de Oliveira draws cartoons since 1975. In 1976, he participated and was awarded in excibition in Berlin in 1975 and then in 1976 on 3rd Humor Salon in Piracicaba. He got Honorable Mention in the 2nd EcoCartoon 2008. In 2010 he was selected in The First Water Internacional Cartoon Contest IRAN 2010. He got 3rd place in the 3rd Salão Medplan de Humor, Internet Award 2011, partnership with Wenes Caetano, 2nd place in the Computer Hall of Humor 2011 with the caricature of famous couples (Lennon). He was selected the 38th International Humor Exhibition of Piracicaba 2011.
Artist's blogs:
Artist's profile at ToonPool http://www.toonpool.com/artists/Tonho_11115.
Click on thumbnails to see images in better quality.