Classic artworks
William Hogarth
'Frontispiece: Satire on False Perspective' (1754)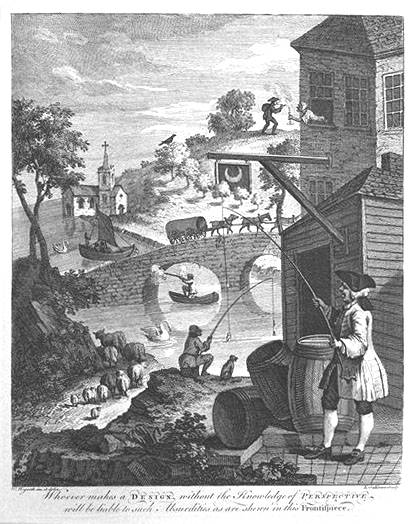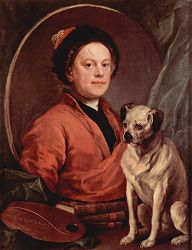 William Hogarth was born at Bartholomew Close in London on November 10, 1697 in family of poor schoolteacher and textbook writer. In his youth he learned to engrave trade cards. By April 1720 he was engraver on his own account, at first engraving coats of arms, shop bills, and designing plates for booksellers.
On March 23, 1729 he was married to Jane Thornhill, daughter of artist Sir James Thornhill.
He created many satirical engravings. He also known by his series of moral works. For example the "Four times of the day" series shows his version of the traditional times of the day theme in art; of events taking place at morning, noon, afternoon and night. Hogarth was also a popular portrait painter.
He drew from the highly moralizing Protestant tradition of Dutch genre painting, and the very vigorous satirical traditions of the English broadsheet and other types of popular print. His prints were expensive, and remained so until early nineteenth-century reprints brought them to a wider audience.
In 1757, he was appointed Serjeant Painter to the King.
Hogarth died in London on October 26, 1764