Covers
Majin Tantei Nōgami Neuro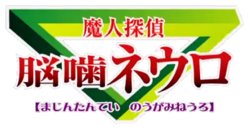 Majin Tantei Nōgami Neuro (Demon Detective Neuro Nōgami) is a supernatural detective Japanese manga series written and illustrated by Yūsei Matsui.
The series focuses on Neuro Nōgami, a demon who eats mysteries. Because he has already eaten every mystery in the demon world, he comes to the human world to feast on the mysteries offered by humans (who release negative energy from their planned crimes). As a demon, he does not wish to make his presence in the human world widely known. Because of this, he makes a deal with high school girl Yako Katsuragi, who has her own mystery to solve, and together they solve crimes to feed Neuro's appetite.
The manga was adopted to anime TV series. Also, several games, which are based on it, were issued.
Logo of the series contains impossible triangle. It appears on every cover of the manga and anime. Below, you can see several of them.
Official site http://www.ntv.co.jp/neuro/index.html.