Movies and animations
Bomberman B-Daman Bakugaiden IV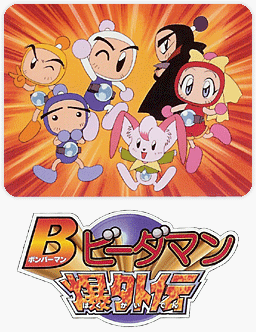 Bomberman B-Daman Bakugaiden IV is an anime based on the Bomberman series and the marble shooting game, B-Daman.
The series generally revolves around five protagonists: White Bomber (Shirobon), Blue Bomber (Aobon), Red Bomber (Akabon), Yellow Bomber (Kiirobon), and Black Bomber (Kurobon). Each character brings a unique personality and element to the story, and work together as the series progresses to fight against evil. Though they must constantly be on the alert for danger, they're always ready to have fun as well as evidenced by some of the goofy antics seen in the show.
In 18th episode a room, which was inspired by Escher's House of Stairs, was shown. Below, you can see an image, which was composed by merging several frames.