Movies and animations
Phineas and Ferb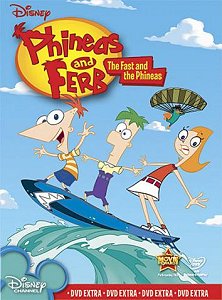 Phineas and Ferb is an american comedy musical-television series. The series follows Phineas Flynn and his English stepbrother Ferb Fletcher on summer vacation. Every day, the boys embark on some grand new project, which annoys their controlling sister, Candace, who frequently tries to reveal their shenanigans to the boys' parents. The second story line almost always features Perry the Platypus working as a spy ("Agent P"), to fight an evil scientist named Dr. Heinz Doofenshmirtz. However, Dr. Doofenshmirtz, or Doof as he refers to himself, feels the need to assert his evilness. The two story lines intersect at the end to erase all traces of the boys' project just before Candace can show it to their mother.
In Season 2 episode 6 "Gaming the System", Phineas, Ferb and Candace get inside the computer game. One room of the game represents Escher's Relativity.
In season 2 episode 35 "The Doof Side of the Moon", brothers build the highest building in the world, which reach Moon, one room of which repeats Escher's Relativity again.