Movies and animations
Sayonara Zetsubou Sensei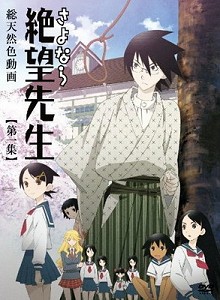 Sayonara Zetsubou Sensei is a Japanese manga, which was and was adapted into an anime series in 2007.
Sayonara, Zetsubou-Sensei revolves around a very pessimistic high school teacher named Nozomu Itoshiki who, at the very beginning of the series, tries to hang himself on a sakura tree. He is saved by an extremely optimistic student known only as Kafuka Fuura.
Each chapter or episode of the series revolves around a particular aspect of life, Japanese culture, or a common phrase in the Japanese language. Nozomu challenges his students to think about the negative aspects of something usually considered positive. These in-depth, off-kilter analyses (along with the reactions of the students according to their own personality quirks) are usually brought to a head with a punchline based on the overall premise.
In the last song of season 3 episode 12 is filled with Escher inspirations. Several screenshots from the episode you can see below.