Movies and animations
The Twisted Tales of Felix the Cat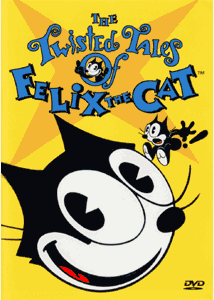 Felix the Cat is a funny animal cartoon character created in 1919 in the silent film era. The anthropomorphic black cat with his black body, white eyes, and giant grin, coupled with the surrealism of the situations in which his cartoons place him, combine to make Felix one of the most recognized cartoon characters in film history. Felix was the first character from animation to attain a level of popularity sufficient to draw movie audiences.
In 1995 an American animated TV series The Twisted Tales of Felix the Cat was released. In the 2nd episode "The Sludge King" there's a scene, which was inspired by Escher's artwork "House of Stairs". Below, you can see an image, which was combined from several frames. So it shows the full scene.
Also, in 5th episode "Felix in Psychedelicland" there's a scenenshot with paradoxial stairs.