Movies and animations
The Vampire Diaries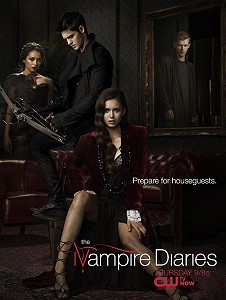 The Vampire Diaries is an American supernatural drama television series, based on the popular book series of the same name written by L.J. Smith.
The series takes place in Mystic Falls, Virginia, a fictional small town haunted and surrounded by supernatural beings. The series narrative follows the protagonist Elena Gilbert as she is drawn into the supernatural world. The show focuses on love triangle between Elena and two vampire borthers. As the narrative develops in the course of the series, the focal point shifts on the mysterious past of the town.
In the 4th episode of 4th season we see a emblem of vampire hunters in form of impossible pentagram. Below, you can see a screenshot with it.