Movies and animations
Vermeil in Gold: A Desperate Magician Barges Into the Magical World Alongside the Strongest Calamity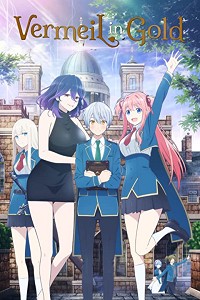 Vermeil in Gold: A Desperate Magician Barges Into the Magical World Alongside the Strongest Calamity is an anime television series based on Japanese manga "Vermeil in Gold: The Failing Student and the Strongest Scourge Plunge Into the World of Magic".
The story tells about a young magician who accidentally makes a contract with a legendary and powerful female demon, eventually becoming her master and lover and the trials and challenges they face so that they can live in peace together.
There is a scene, which is based on Escher's artwork Waterfall. Also, there is a pillar in park with impossible triangle on it.