Computer games
Knock-Knock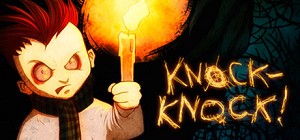 Knock-knock is a survival horror video game developed and published by the Russian studio Ice-Pick Lodge.
The main goal of the game is to help The Lodger survive until dawn. His house is surrounded by something which makes The Lodger fear strongly for his life. The player takes control of The Lodger and helps him survive by turning the lights on in every room of the house.
In the game you can see a construction, which is based on Escher's Relativity.