Computer games
PuLiRuLa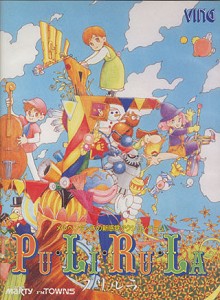 PuLiRuLa (Pu-Li-Ru-La) is a 1991 arcade game released by Taito. The game was later ported to Sega Saturn, PlayStation, and PlayStation 2 in Japan. PuLiRuLa is known for its jagged graphics, story line, and poor English translation.
PuLiRuLa is a basic beat 'em up action game. Player 1 controls Zac and Player 2 controls Mel. Both characters are identical control-wise. The flow of the game consists of fighting through enemies until the player reaches the boss at the end of the area. When enemies are hit, they turn into animals and run off the screen. The player is awarded points if they walk into the animals.
There are some Escher inspired backgrounds in the game. Three screenshots are presented below.