Computer games
The Simpsons: Trapped Out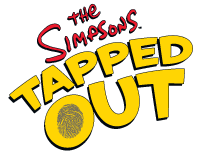 The Simpsons: Tapped Out is a freemium video game for iOS and Android, based on The Simpsons.
The game offers a variety of buildings that you buy with virtual money and/or donuts, some of which are tied to tasks and come with a familiar character. You can also place rivers, roads, pavement and interactive decorations on the land.
Images were found at http://forum.ea.com/eaforum/posts/list/9122984.page.