Impossible figures on calendars
This calendar 2011 was designed by design agency Ad Once for the russian exchange operator Smatex. Every page of the calendar shows impossible cube the Smatex logo, which is decorated by various materials, which is associated with the corresponding month.
Below, you can see several pages from the calendar. Click on image to see it in better quality.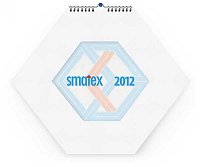 Images were found at http://www.advschool.ru/articles/article3928.htm.