Impossible sculptures
Jerry Andrus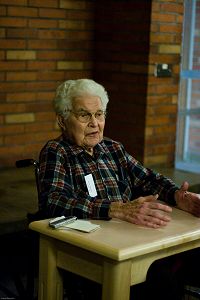 Jerry Andrus was a poet, philosopher, inventor, humanist, agnostic and magician. He lived in Albany, where he grew up. Jerry had traveled the world as a teacher, lecturer and performer. However he first traveled to Europe as a solder in the US Army during World War II.
Jerry is mostly recognized as a magician. Whereas most magicians learn the trade from other magicians, Jerry had developed all of his illusions himself. He is the author of several books and videos on card control and other close-up magic tricks.
But Jerry is also well known for his remarkable eye for optical illusions and he had created many ones in his shop and his home that he called the "Castle of Chaos". Some of these stunning and remarkable illusions had traveled with him to conferences and seminars all over the world. His optical illusions demonstrate how the mind can be fooled by the images implanted on our retinas. The most known his optical illusions are big crazy crate and impossible junction of two hexnuts, which you can see below.
Jerry has died in 2007 in age of 89.
By materials of the official site of Jerry Andrus http://jerryandrus.org.
See also video with illusions by Jerry Andrus.