Computer graphics
Alan King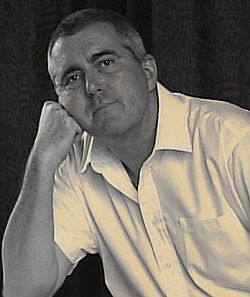 Alan King was born in Greenwich, South East London in February 1952. He first started to draw at John Evelyn School in Deptford (mostly in text books which got him the cane on a regular basis!) Once he joined Eltham Green School in 1963 King studied Art under Richard Box and Jim Riddock where he was introduced to the artists of the Surrealist movement. Later King studied the work of M.C. Escher and the architecture and interior design of Frank Lloyd Wright.
Leaving school in 1968 King began his professional artistic journey by producing his own 'private' artwork while working as a trainee commercial artist in London's highly competitive advertising industry. After just two years he parted with the commercial advertising industry to pursue his own creative ambitions and by the early 1970's he was already exhibiting and selling art across London.
Now accepted as a member of the Massurrealist Movement himself, and probably the first in the UK, King continues to experiment and explore new methods of artistic expression.
Massurrealism is the form of art that is rooted in the combination of mass-media related art with surrealist imagery. Its popularity has grown because Massurrealism represents the breaking through of borders, known categories and limitations. This makes the Massurrealist a free spirit.
Drawing on his knowledge of computer and commercial design techniques, processes and working methods Alan King has developed his own unique and recognisable style. Strong, bold, and rich with colour, his vibrant and vividly surreal landscapes bridge the gap between surrealist imagery and New Media technique.
There are also ink on paper artworks by Alan King.
Artist's website http://kingart.vpweb.co.uk