Classic artworks
Pieter Bruegel
'The Magpie on the Gallows' (1568)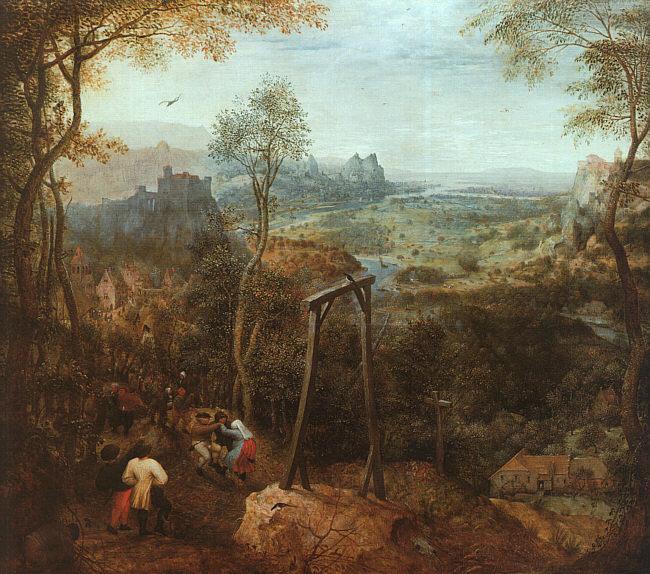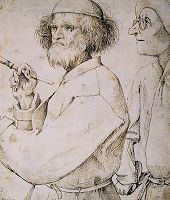 Pieter Brueghel the Elder or Bruegel (c.1525 – September 9, 1569) was a Flemish Renaissance painter known for his landscapes and peasant scenes. From 1559 he dropped the 'h' from his name and started signing his paintings as Bruegel.
There are records that he was born in Breda, Netherlands but it is uncertain whether the Dutch town of Breda or the Belgian town of Bree, called Breda in Latin, is meant. In 1551 he was accepted as a master in the painters' guild of Antwerp. He traveled to Italy soon after, and then returned to Antwerp before settling in Brussels permanently 10 years later. He died there on 9 September 1569.
Bruegel specialized in landscapes populated by peasants. He is often credited as being the first Western painter to paint landscapes for their own sake, rather than as a backdrop to a religious allegory.
Attention to the life and manners of peasants was rare in the arts in Brueghel's time. He earthy and unsentimental depicted the rituals of village life - including agriculture, hunts, meals, festivals, dances, and games.
Modern flemish artist Jos de Mey uses some characters from Bruegel's artworks as statists in his artworks.
The image was found in the gallery
http://www.hol.gr/cgfa/bruegel1/p-brue1-24.htm