Jos de Mey
[Page 1] [Page 2] [Page 3] [Page 4] [Page 5] [Page 6] [Page 7] [Page 8] [Page 9] [Page 10] [Page 11] [Other artworks]
---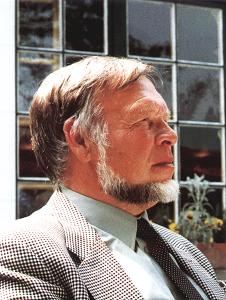 Jos de Mey was born in 1928, the Flemish artist Jos de Mey studied at the Royal Academy of Fine Arts in Ghent Belgium then taught interior architecture and color studies for 39 years. Since 1968 he had concentrated on painting.
He is most well known for his meticulously realistic depictions of impossible structures. His works further several of Escher's ideas, and are presented in a style that combines the surrealistic elements of Magritte with the flemish touches of Brueghel and other painters of the low countries. Many of his recent works feature an owl, the paradoxical flemish symbol that simultaneously represents theoretical knowledge and the wily fool.
In the article "After Escher" artist tells about his artworks and answers on common questions about his art.
You can read about some heroes of Jos de Mey's artworks in the article "Characters of Jos de Mey's artworks".
In December 22th, 2007 Jos de Mey died.
Basically, this section was prepared by matherials of art albums which were sent by author in 2002. You can see his autograph below.
In 2010, a book "Illusionistic painting. Pictures from private collections" with the most number of artist's paintings was published.