Steve Leishman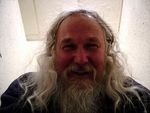 Steve Leishman is a Volunteer Research Officer of the Faculty of Philosphy of the University of Adelaide (Australia).
He created a huge number of sketches of impossible figures. Often his figures show several types of impossibility at once. For example, an complex type of impossible triangle can be combined with Devil's fork.
He also took part in creation of visual essay "The Impossible University" with photo montages of places of the University of Adelaide.
The images below were found at http://www.hss.adelaide.edu.au/philosophy/inconsistent-images/galleries/